No Babies
2018-04-05
Home / Environmentalism


·


---
I don't have children and I don't want any.
Reasons for people to not have children:
Selfless reasons

Refusing to breed prevents or at least slows population growth. More people means greater stress on our already-stretched biosphere. The fewer of us there are, the less we'll consume and the more the rest of Nature will flourish. Not having children won't prevent others from breeding, of course, but you'd abstain from the selfishness and short-term thinking that plagues Humanity and is turning this beautiful Earth into a dump.

Having fewer children would make sharing resources with less fortunate people easier. If we don't have children, we'll have fewer reasons to suck resources from the rest of the world. Additionally, we could share more of our wealth because we wouldn't greedily horde it for our (nonexistent) biological posterity.

Humanity is marching towards self-destruction. Not having children would reduce future suffering. We're making it easier to extinguish ourselves both accidentally and intentionally. Humans instinctively fear and hate each other and grind each other down for power; thus we gladly fund and stockpile ever more destructive weapons. We rapidly develop technologies that enable unprecedented mass surveillance, social control, and repression because they're cheap and convenient. What's Humanity's chance of surviving another 100 years? What's the chance it'll be freer? Small, indeed. If you don't have children, you won't bring people into the world to experience future horrors and suffering.

Not having your own children lets you focus on others. Why not help existing children become good, responsible people?

Selfish reasons

Refusing to breed allows you to live a fulfilling life entirely on your terms. Children are lead balls that chain you for 18+ years (depending on how many you have and how independent they are in adulthood, of course). You would exist primarily for them. Want to change careers? Go back to school? Make a fortune? Travel the world? Serve humanity? Then why imprison yourself?

Children are expensive. They're mortgages with bad attitudes. And unlike mortgages, children demand most of your free time. So not only do you have to slave away to pay for them, you also have to spend your precious personal time attending to their needs.

Kids are boring ignoramuses. Sure, they can be cute and adventurous, but try holding a deep, stimulating conversation with one for 20 minutes. You'd spend most of your time explaining basics.

Not having children reduces stress. No sleepless nights spent cajoling noisy children to sleep! No worrying about whether your kids are okay! Less stress over stretched finances! No anxiety about school quality, safety, or college savings! The fewer children you have, the less you have to worry.

You don't have to wonder whether you're being a good parent. Let's face it: Most of us have no clue whether we can raise good children. By not having them, we don't have to worry about it.
Reasons to adopt (if you must have children):
There are lots of children out there who need good, loving parents. Breeding is far more selfish when we consider that millions of children could use a parent's love.

Adopting might be cheaper. If you adopt a slightly older child, you'll skip some expensive years.

Adopting older children lets you skip some difficult years. Of course they could have some mental issues or bad habits…

Adoption is nobler than breeding. It takes a stronger love to care for someone else's child than to raise your own. It also creates a better world, one with people (you at least!) who care for others.
Dating and marrying partners with children of their own shares some of adoption's advantages.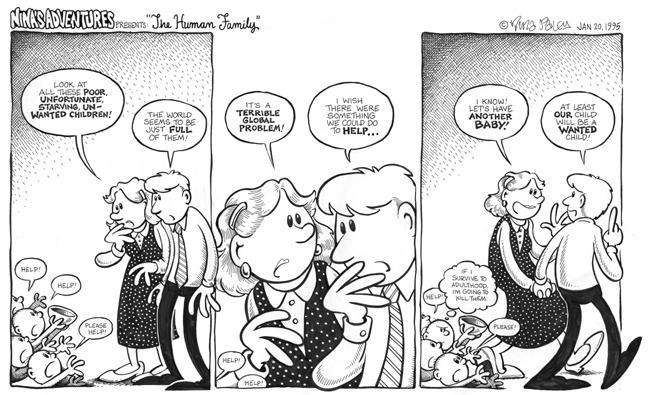 Bad excuses to have children:
My children might grow up to solve the world's problems. Your children will probably be average Janes and Joes. Help the most promising kids grow up to save the world or, better yet, save it yourself.
I need to preserve my culture, religion, nation, or ideology. Welcome other people into it instead. If you need to breed to preserve your identity, maybe it isn't worth saving.
I need to preserve my race. Is race really that important? Strive to preserve good ideas and institutions instead.
I need to preserve my genes. Your kids could still be born with problems. Besides, there are plenty of "good genes" in other children: Preserve them! Better yet, focus on preserving ideas and institutions: They're much more likely to determine Humanity's future.
Humanity would die out. Enough people will keep breeding to preserve it. How do you know Humanity's survival would depend on you having children? Besides, would human extinction be so bad?
We need a growing population to support the economy. Robots will eventually replace most (if not all) labor—assuming Humanity survives long enough. We can manage with stable economies in the meantime. If we absolutely must have more workers, welcome immigrants instead, most of whom would probably work hard. (If masses of people aren't trying to immigrate to your country, is it worth living in and supporting?) Also, it'd suck to be one of your kids, to learn that your parents had you to "support the economy". "Thanks, Mom and Dad! I love you, too!"
I want to pass on my love and ideas. Become a teacher, author, or leader and pass them on to many more adults and children.
I want to live forever through my descendants! Live on through your actions and ideas instead. Your descendants probably won't remember you, anyway, and even if they did, they probably won't remember everything you want them to or the way you want them to. History shapes its own memories.
I want to be happy! Happiness comes from freedom, friendship, good character, and a sense of purpose. You don't need children for any of those.
I want someone to love me when I'm old! Your children aren't guaranteed to love you. Form lifelong intergenerational friendships instead.
I want someone to care for me when I'm old! Invest for retirement and pay someone to take care of you.
I've always wanted to have children! Carefully consider whether your desire is merely social expectation thrust upon you. You can live happily without them.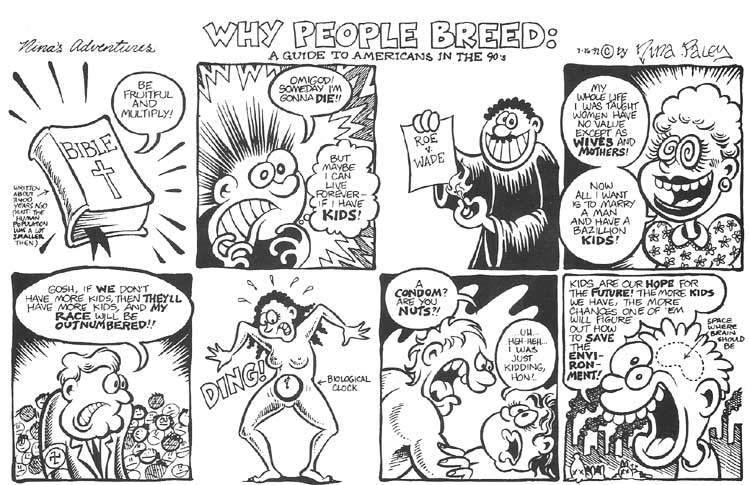 Please feel free to proudly display these icons on your website if you don't want to have any more babies:
All comics on this page are by Nina Paley and are licensed under a Creative Commons Attribution-Share Alike 3.0 United States License.